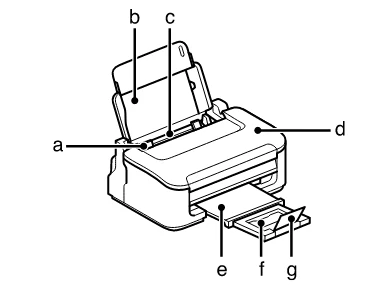 So your Epson printer won't print anymore. And pressing the "rubbish bin" icon button on the front won't move the ink head sled into the "change" or "identify empty color" position? Well, this happened to me on an Epson WF-2010 and here's the fix.
The manual states that you need to press the "rubbish bin" either once - OR - in case the sled won't move, press it for over six seconds. Then the sled will move!
Do not brute force the sled out from its covered position as stated here!!!
Just follow the manual:
Switch the printer ON (or once OFF, it it is already on - won't hurt)
Then wait for it to finish its back and fort inside.
Then open the lid.
Press the rubbish bin icon, once.
In case it won't move, press the button for over six seconds - it WILL move then.
it will indicate the empty cartridge
Press rubbish bin btton again - the sled will move into tht "replace" position
Do it and press the rubbish bin button again.
Done.
In case your system just reports your printer as "not responding or not even there, at all! read this pot on why your Epson printer is not found.